Regular price
Sale price
$0.00
Unit price
per
Sale
Sold out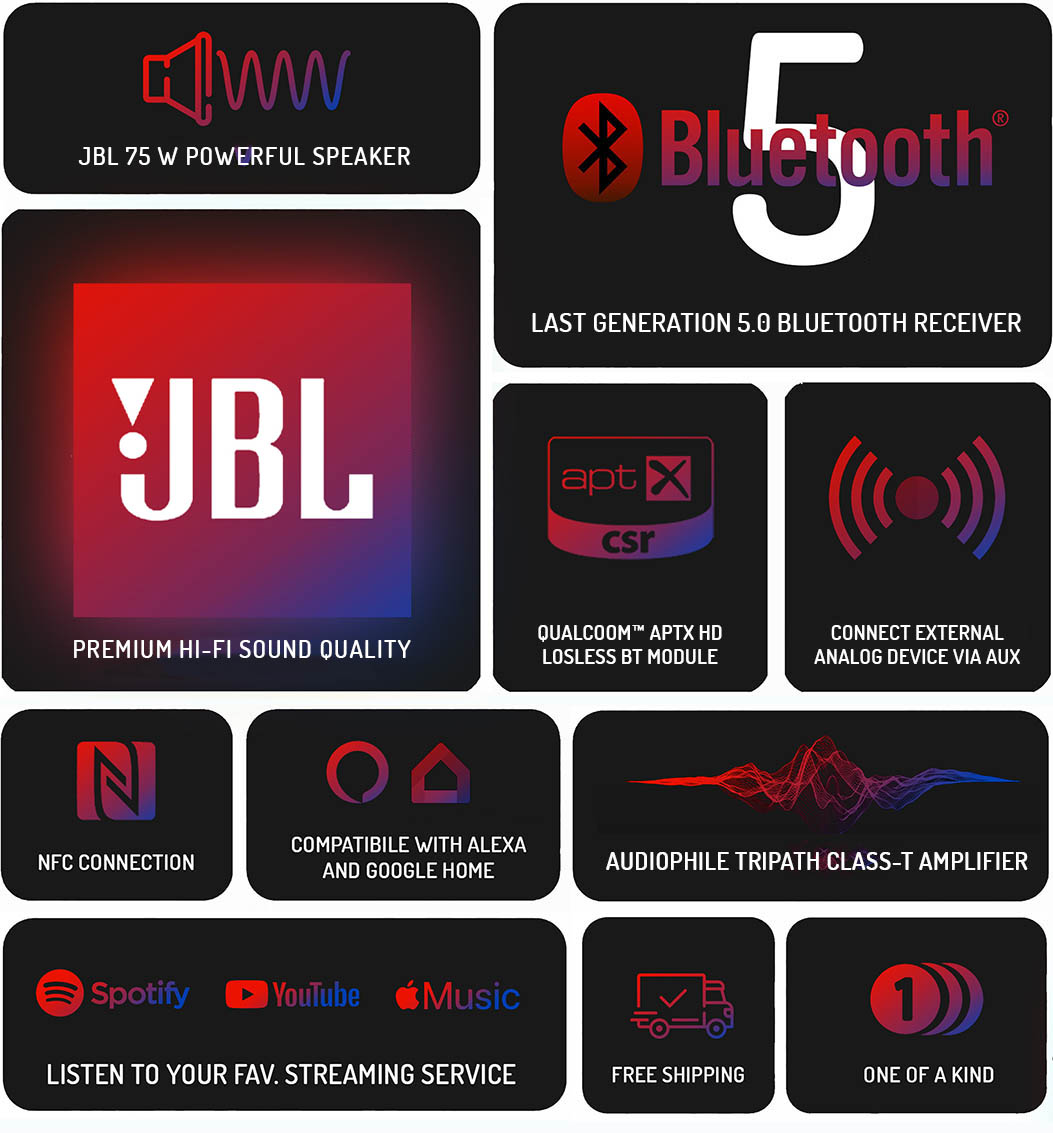 VINTAGE RADIO TRANSFORMED INTO BLUETOOTH HI-FI SPEAKER.
PHONOLA 661 model from 1935. Phonola was founded in 1929 in Saronno under the name of FIMI. In 1931 he started the production and marketing of radio equipment under the Phonola brand. With the outbreak of war, the company's production activities were suspended. The recovery took place in 1945, and the company also produced appliances on behalf of third parties under the brands Grundig, Minerva and Siemens. During the 50's he started the production of the first televisions. In 1969 it was taken over by Philips. Dimensions width 46cm x height 29cm, depth 24cm

ONLY YOURS, IT'S A UNIQUE PIECE.
The result of a long search among enthusiasts, fairs and collectors from all over the world, each specimen is on sale as a unique piece. It will be yours alone. Being original objects of the time, they may show small signs of aging, they tell and testify to the authenticity and history of the piece.

TOP OF THE LINE JBL™ SPEAKER. Erwitt's DeLuxe series aims to offer you the maximum sound quality obtainable on these magical objects: past and future merge to give life to a unique product, ready to amaze. Thanks to the 75 Watt
JBL™ speaker
you will have
crystal clear sound
without distortion. To close the circle, the wooden structure of the radio itself which is soundproofed internally with 8mm closed-cell polyethylene anti-vibration panels. This is to take full advantage of the
sound box
, and make everything resonate at its best, eliminating possible vibrations of the structure and restoring a unique sound for each specimen.

AUDIOPHILE QUALITY AMPLIFIER.
To have a complete and totally satisfying sound range, the task of delivering power is entrusted to the amplifier with
Tripath™ Technology
designed and built in Italy by the Fenice company. Thanks to
Class-T
amplification and
Digital Power Processing™
technology, it offers
Audiophile sound quality
. Prevents any disturbances thanks to the Anti-pop circuit operating on and off. It also offers safety at the highest levels thanks to the integrated protection against excess temperatures and short-circuits.

LATEST GENERATION BLUETOOTH AND AUX INPUT.
Thanks to the Qualcomm®
Bluetooth 5.0
receiver with AptX HD and Lossless technology, music maintains the highest possible quality with virtually no latency. You can therefore take full advantage of Premium Hi-Fi Streaming services such as Tidal, Apple HD, Amazon Music HD and many others. Furthermore, with the
AUX IN
function you can connect an external analog device directly to the radio via RCA. Have you bought a new turntable? Plug it in and listen to your vinyl directly on your Erwitt radio.

POWER AND VOLUME ADJUSTABLE FROM THE ORIGINAL KNOB.
The emotion of giving new life to a piece of history with the gestures of the last century. On the DeLuxe series the audio volume can also be adjusted by turning the original knob of the radio, and not only from your smartphone as is the case for the Basic series. To keep the feeling of interaction as faithful as possible to the original one and make you travel back in time.

READY FOR ALEXA AND GOOGLE HOME.
If you already have an Amazon Echo (Alexa) or Google Home device at home, you can connect the radio via Bluetooth and thus add voice control and the Multi-Room function to Erwitt radios. Manage your smart home or ask to play your favorite song. Having an answer from a radio from the last century will leave everyone breathless.

5 YEAR WARRANTY AND FREE RETURNS.
Every single order is carefully processed in the Erwitt laboratories, so we are sure to offer you a quality product. You have our free technical assistance for any need and you are covered by a 5-year warranty. If you change your mind, we offer free returns, just contact us at any time and we will take care of everything.

FREE SHIPPING, ALWAYS.
No Prime subscription to pay, for our customers shipping is always free, regardless of the amount spent. The radio is processed and converted to Bluetooth when ordering. It therefore takes
about 5 working days
to completely refurbish the radio which is then sent to the customer by 24hr express courier.
TECHNICAL SPECIFICATIONS:
Professional 12V stabilized power supply with short and overload protection. 75 Watt JBL™ Speaker with Woofer, Tweeter and Crossover. Fenice T-Amp amplifier with Tripath technology and Digital Power Processing. Bluetooth Qualcomm® 5.0 AptX HD with Name Connection and custom DSP equalization. Power and volume from original knob. Warm light LED backlighting of the dial scale. AUX input with RCA connectors.
Share
View full details
WE ALWAYS OFFER
FREE SHIPPING ON ORDERS OVER €89

If you spend more than €89, we'll give you free shipping. All over Italy. Otherwise you can always opt for free collection at our office.
FREE RETURNS

For any need or change of mind we are at your complete disposal. Returns always free with collection at our expense.
5 YEAR WARRANTY

For 5 years you are covered by our guarantee which includes free collection and repair or replacement.